Last Friday marked the start of the eighth rugby world cup, hosted by England from 18th September until 31st October.  For those who don't follow the sport, the rugby union tournament takes place every four years, and brings together the world's top 20 teams. Organised into four pools, A-D, the teams play each other once, with the top two in each group advancing into the knockout stages.  Overall, the Southern hemisphere has dominated the tournament, with New Zealand (reigning champions from 2011), Australia and South Africa having all won it twice.  England is the only other winner, victorious in 2003.
Now I'm going to break down the scores from the first eight games.  All living up to their expectations, they've promised us six weeks of scintillating rugby and massive upsets.
Match 1: England – Fiji    35-11 
The hosts kicked off for Pool A at Twickenham Stadium, the home of English rugby and the venue for the final, against the Oceania qualifier, Fiji.  Nicknamed the 'pool of death', every match in Pool A will be intense, with the possibility of points difference coming into play. Over 82,000 spectators would agree with that statement: even before kick-off, the Fijian war dance, the Cibi, rivaled the voices of thousands of English fans chanting 'Swing Low Sweet Chariot'.  In the end however, England emerged victorious; the last-minute try from Billy Vunipola securing an extra bonus point for the hosts.
England:
Tries: Brown (2), B. Vunipola, Penalty Try
Conversions: Farrel (2), Ford
Penalties: Ford (2), Farrel
Fiji:
Tries: Nadolo
Penalties: Nadolo, Volavola
Match 2: Tonga – Georgia   10-17
Tonga:
Tries: Vainikolo
Conversions: Morath
Penalties: Morath
Georgia:
Tries: Gorgodze
Conversions: Kvirikashvili (2)
Penalties: Kvirikashvili
Match 3: Ireland – Canada   50-7
Ireland:
Tries: Sexton, Payne, R. Kearney, Cronin, O'Brien, D. Kearney, Henderson
Conversions: Sexton (3), Madigan (3)
Penalties: Sexton
Canada:
Tries: Van der Merwe
Conversions: Hirayama
Match 4: South Africa – Japan   32-34
In what was the biggest shock of the weekend, and a major upset in world cup history, two-time champions South Africa were defeated by the Japanese.  Having never won a world cup match ever, Japan were already written off by many before stepping out onto the pitch. Although the Springboks had had a rather miserable build-up to the tournament – having lost 6 of their last 9 test matches from November, and having earned the wooden spoon at the Rugby Championship – they were still the strong favourites.  However, they have an older team and much to the world's surprise and the neutral supporters' delight, Japan triumphed.  Fortunately for the Springboks (if one can even use such a term considering the embarrassment of the defeat), they managed to gather 2 points from their loss, one a bonus point for scoring four tries, and the other for being within seven points of their opponent.
South Africa:
Tries: Du Plessis, Strauss, Louw, Jager
Conversions: Lambie (2), Pollard
Penalties: Lambie, Pollard
Japan:
Tries: Goromarum Leitch, Hesketh
Conversions: Goromaru (2)
Penalties: Goromaru (5)
Match 5: France – Italy   32-10
France:
Tries: Mas, Slimani
Conversions: Michalak (2)
Penalties: Michalak (5), Spedding
Italy:
Tries: Venditti
Conversions: Allan
Penalties: Allan
Match 6: Samoa – USA   25-16
Samoa:
Tries: Treviranus, Nanai-Williams
Penalties: Pisi (4), Stanley
USA:
Tries: Wyles, Baumann
Penalties: MacGinty (2)
Match 7: Wales – Uruguay   54-9
The Welsh clearly overpowered their opponents who were only able to score three penalties during the 80 minutes.  Receiving an extra point for scoring 4 or more tries, Wales now top Pool A with England, each on 5 points.  However, the win did not come for free:  Cory Allen joins the growing list of injured Welsh players after suffering from a hamstring injury during the match.
Wales:
Tries: Tripuric, Davies (2), Lee, Allen (3), Amos
Conversions: Priestland (7)
Uruguay:
Penalties: Berchesi (3)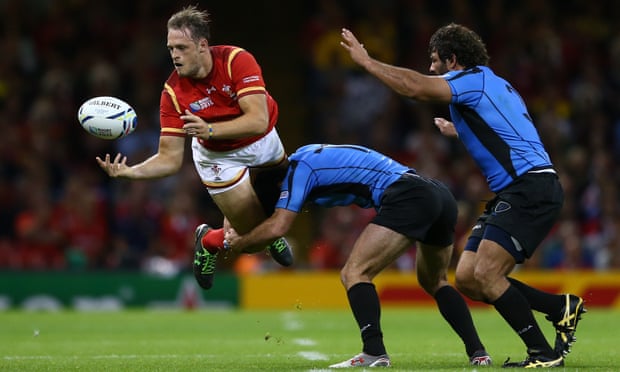 Match 8: New Zealand – Argentina   26-16
The All Blacks did what they had to do in their bid to defend their world cup title, coming from one point behind after the first half to win by 10 points.
New Zealand:
Tries: Smith, Cane
Conversions: Carter (2)
Penalties: Carter (4)
Argentina:
Tries: Petti
Conversions: Sanchez
Penalties: Sanchez (3)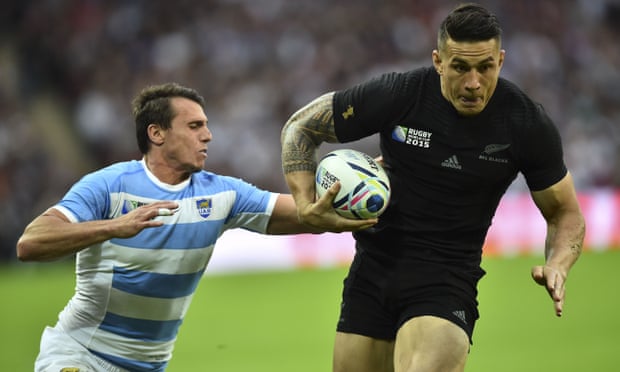 Current Standings:
This week's matches include:
Wednesday 23rd: 
Scotland – Japan (15.30) (POOL B)
Australia – Fiji (17:45) (POOL A)
France – Romania (21:00) (POOL D)
Thursday 24th:
New Zealand – Namibia (21:00) (POOL C)
Friday 25th:
Argentina – Georgia (17:45) (POOL C)
Saturday 26th:
Italy – Canada (15.30) (POOL D)
South Africa – Samoa (17.45) (POOL B)
England – Wales (21:00) (POOL A)
Sunday 27th:
Australia – Uruguay (13:00) (POOL A)
Scotland – USA (15:30) (POOL B)
Ireland – Romania (17:45) (POOL D)
Enjoy the rugby, and keeping reading to hear about this week's action from England!