Germany's Volkswagen is the largest car maker in the world, after Toyota. It's 590,000 employees produce nearly 41,000 vehicles daily. So it's safe to say that you know who Volkswagen are.
They've come a long way from their origins as a Nazi vision that aimed to give German families their first cars. Post-war, it was a large part of the regeneration of the country. After that, Volkswagen kept growing, and was wholeheartedly successful.
In 2014, they were one of the biggest firms in the world. It had factories in 31 countries, and its products were sold in 153 countries across the globe. That's pretty impressive. Until September 2015, of course, when they showed us their ugly side.
What happened? Well, quite simply, the company admitted to cheating on emissions tests in the US. The newer VW cars sold in America had devices in diesel engines that could detect when they were being tested, and alter their results accordingly to make them look better than they actually were.
The gadget detected when the car was being tested through its vehicle software and switched the engine to a low-emissions mode. It then turned that mode off when the car was on the road, meaning that it had far higher emissions than permitted. 40 times more toxic fumes than allowed by the US, to be exact. "Clean diesel" engines cut emissions through techniques such as adjusting air-fuel ratios and exhaust flows. That's real dirty Volkswagen, real dirty.
When running normally, requiring greater performance, VW's controls would not operate in the same way.
Volkswagen were pushing to sell their "low diesel emission cars" in the US, when in fact, they were a fake. In the US alone, the Environmental Protection Agency found that 482,000 cars had been fitted with this so-called "defeat-device" since 2009, making them perform like the clean diesel cars they were supposed to be.  Worse still, is that VW admitted to having sold 11 million cars with this device worldwide, in recent news.
To answer the probing questions of why a major company like Volkswagen would take such drastic measures, it is that producing diesel cars with low emissions is a tricky task. Clean diesel cars were to supposedly offer great mileage and low emissions. Easier said than done.
So, let's zoom out a bit. We've got two main types of combustion engines. Diesel and gasoline.
Both have their pluses. Diesel engines are quite popular, especially in Europe, due to their fuel economy. Diesel fuel contains more energy per gallon than gasoline, thus the diesel engines work more efficiently. So, compared to its gasoline counterpart, the typical diesel car can travel up to 30% farther on a gallon of fuel. Better? Yup, but there's always a catch.
Diesel cars have better mileage than gasoline ones, fine. They also emit less carbon dioxide fumes. Great. But in exchange for that they emit more nitrogen oxides, which are smog-inducing, particulate matter-feeding compounds. Those are not so great, which contribute to serious health effects.
VW couldn't balance performance with low pollution rates. So, they cheated. And as a result, we have found that there have been 250,000 to 1 million extra tonnes of nitrogen oxide emissions each year since 2009 around the globe. That's almost 6 million extra tonnes (at most) that we didn't know about.
They got away with it for years. Regulators didn't notice or suspect much until an independent group, the International Council on Clean Transportation, wanted to investigate the growing differences between lab tests and VW's cars on the real road in Europe, as their independent tests on the standard testing of emissions weren't adding up.
Collaborating with researchers at West Virginia University, they used a probe that was fitted up the exhaust pipes of VW cars (Jetta, Passat) to examine the inner workings more closely. You can imagine the shocking results. Depending on the car, the emission ratings were 5 to 35 times higher than the limit.
And it gets even more scandalous. The Environmental Protection Agency had been notified and then ordered Volkswagen to investigate and fix the problem in 2014. They claimed to have done so. But results still weren't matching up after that, and the EPA jumped all over VW. Eventually, VW cracked and admitted to the existence of these defeat devices.
But VW aren't the first company to cheat on emissions tests. Truck manufacturing companies such as Caterpillar and Volvo had been caught doing something similar to this (car programming) in 1998.
 Part of the problem that it was so easy to cheat for VW and these other companies was because test on emissions are run by regulators in a lab through simulations, where they did a series predictable manoeuvres. That and the fact that technology is advancing everyday to make it easier to cheat.
So really, Volkswagen hadn't been able to produce diesel cars that had the ideal mix of performance, fuel economy, and low pollution, at least profitably. That's why they'd cheated, taken the easier route.
But what's happening now? It's not over. No, it's only the beginning.
The EPA ordered VW to fix all the affected vehicles – US based and worldwide – a recall

All sales for the affected vehicles have been halted – the company pledged to stop selling 2015 and 2016 Audi and VW models with the device

The Department of Justice is contemplating criminal charges – fines of up to 18 billion dollars

Not to mention VW's stock prices plummeting, losing ⅓ of its market cap in September alone

The chief executive has quit after their reveal, though he denies wrongdoing

VW had a chain of management command that approved fitting the devices to its engines, so further resignations are likely

It's taken a toll on Europe's diesel-happy cars

The 1% representation of the diesel market in the US is expected to drop as well

More recently,

Switzerland

has banned sales of Volkswagen diesel cars – the most severe step taken so far by a government in reaction to the emissions crisis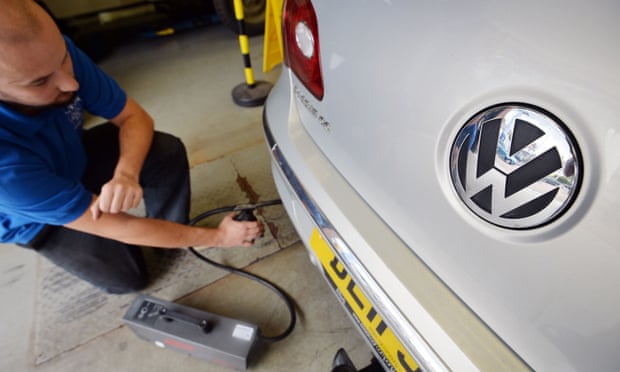 It's taken a heavy blow to Volkswagen, but some say it won't damage Germany's reputation, and VW will eventually bounce back. You can read about it here: http://www.bbc.com/news/business-34438031.
Sources: http://www.bbc.com/news/business-34324772, http://www.bbc.com/news/business-34438031, http://www.vox.com/2015/9/21/9365667/volkswagen-clean-diesel-recall-passenger-cars, http://www.theguardian.com/business/ng-interactive/2015/sep/23/volkswagen-emissions-scandal-explained-diesel-cars